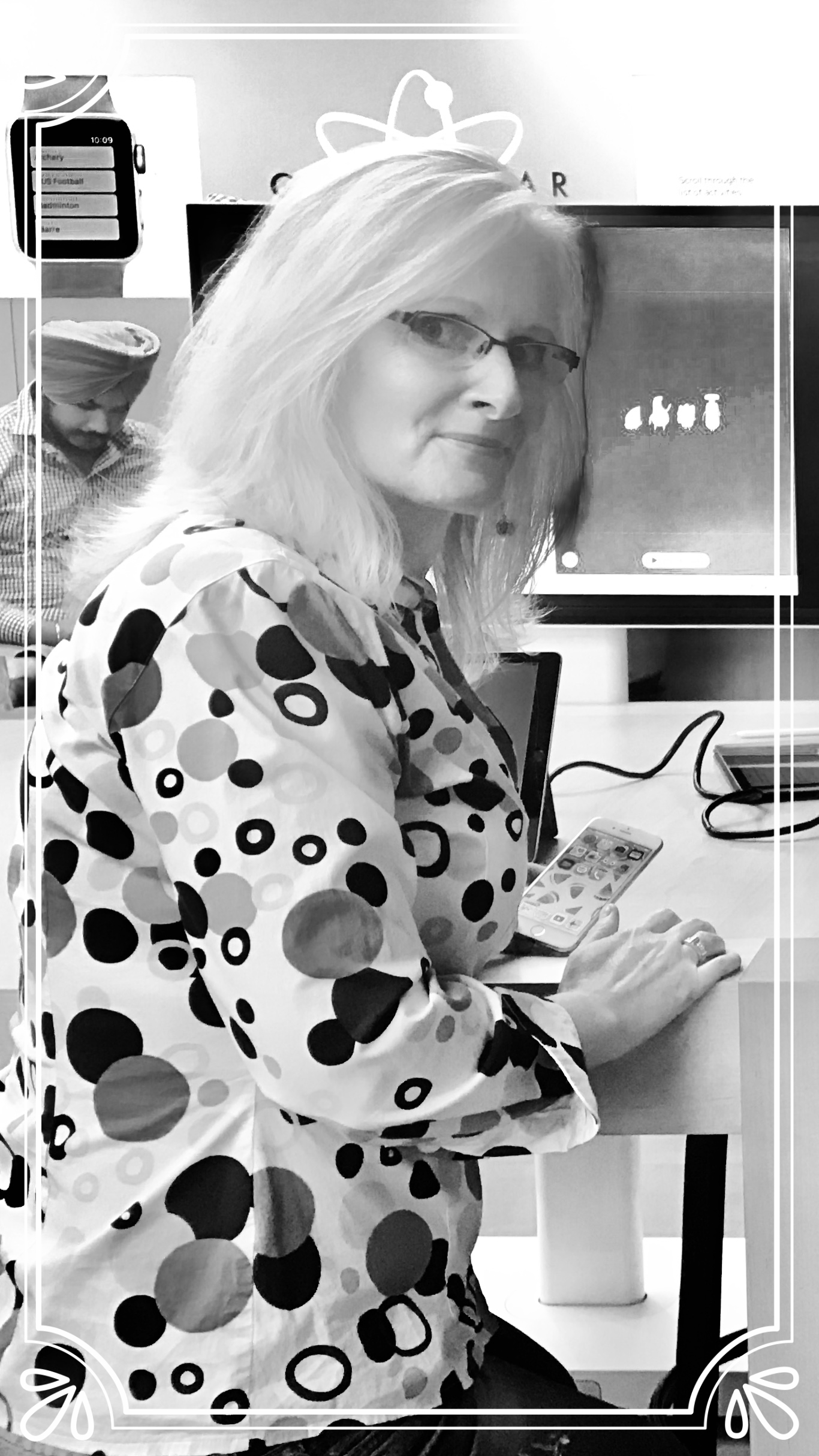 Here's me taking a workshop at Apple Store - Fairview on coding of all things! Too much fun and learning all at once. #todayatapple
Learning about Coding with  Swiftplaygroud, at Apple Store Fairview Mall - Toronto, Ontario, Canada Today At Apple - Free Workshops - everyday of the week. Thank you Jennifer Ferdinand for Airdropping me this photo.
Connections, real connections of any kind happen seemingly without effort, happen faster than believed possible and prior to the actual experience of connecting with another. These sorts of connections leave me stunned, with thoughts of - "What just happened there????"
I am completely changed by the connection made; never the same as I was just a moment before the connection. I can only explain this occurrence as an "Aha" moment or a revelation, but of the human kind. Instantaneously there are no barriers within and without. There's a sense of loss of control (in a very good way) when connections are created, as though something out there has complete control over this moment in my life, the connection made while learning, and the people connected with that defining moment.
Connection, whether within self or with others, suspended in moments of laughter, learning, and joy, define extraordinary connection. Believe it or not, all of these things can happen while learning technology tips or a completely new, to me, subject of coding, at Apple Store - Today At Apple.
When true connections happen there is no judgement whether while learning or meeting someone for the very first time. Ideas and concepts are shared alongside personal stories with a common thread ultimately surfacing. Each time I learn something new I am altered into a different better version of who I once was - just a moment previous to the better me, now. All that is required of me is I be open to possibility of learning and changing. What a grand concept. So simple. The art of being open to something new, something different to me.
At Apple Store, Fairview Mall late on a Saturday evening, when most are out partying I'm out learning. 'A round for the table', at Apple Store, means my glass is brimming over with libations of new information, shared stories and laughter while creating lasting connections with people and technology.
Is it possible, at my stage, I can understand coding of all things? For me, when creativity is combined with an added ounce of fun, (especially whenlearning about technology) the sky opens up and I am flooded with hope and more possibility which equals more learning! Creativity is a powerful vehicle creating genuine connections each time it is expressed or shared whether within self, with others or with technology. When all of theses connections take place in a single moment, my world changes and all possibility on all levels is real.